Daily admission information - riding, camping, RV's, cabins, hours, etc., is shown below. If you are interested in becoming a Highland Park Resort member, please click here to go to our membership page.
We do not charge a gate fee, but everyone must register and sign a liability release form, even if you are not riding. Everyone under the age of 18 MUST have a parent or legal guardian here with them at all times - eyes on your minor. The main lodge, parts dept, service dept, KTM World, and Park registration opens at 9:00 AM daily. Trails open 9:00 AM - 5:30 PM. The store is open 9:00 AM - 5:00 PM 7 days a week. No running engines after closing time.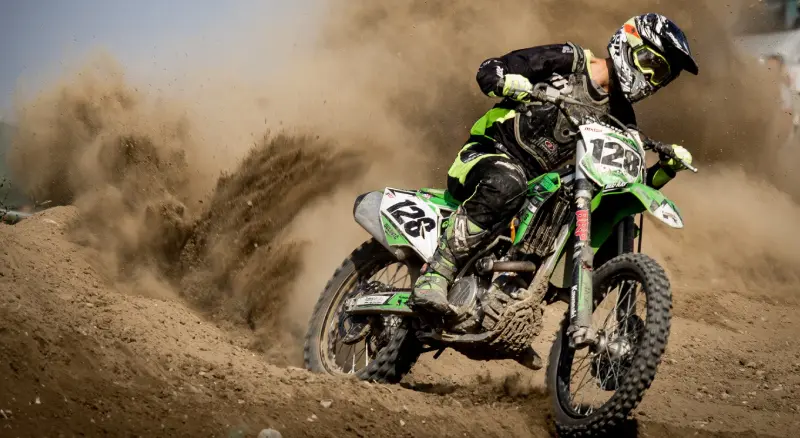 Daily Vehicle Riding Fees
We have held our daily riding fees steady for many years, even through the recent years of record inflation, but we are going to have to make some changes to better keep up with rising costs, and trail damage by type of vehicle.  As of Sept 1, our daily riding fees will be:
Motorcycles - $35
ATV's - $45
SxS - $75
Kids 7 yrs and under - FREE
Kids 9 - 14 on bikes/ATV's - $25
Passengers - $10
Spectators - FREE
$5 discount per person (driver & passenger) for each additional consecutive day if you pay in advance!
Camping & RVs
Tent and RV camping is free at Highland Park Resort! 120v Electrical hook-up is $10/night. We do not yet have hookups for RV's, but you can camp in a self-contained RV, and water is available on site. Camping cabins are available starting at $79/night and are very nice. Our bathroom and shower house has private toilets and private showers with dressing rooms. Small campfires and cooking are OK.
Availability
The property is open 7 days a week, 365 days a year; however, Christmas day and Thanksgiving day are camping only - the lodge will be closed, and there is no riding on those two days. The lodge and registration are open 9:00 AM - 5:00 PM.
There is no mud at Highland Park. If you are looking for mud, you will be disappointed. Creeks are off-limits for riding per the EPA. Heavy fines may be levied for riding in or through the creeks. There are, however, miles and miles of beautiful trails through the foothills of northwest Georgia with lots of elevation changes.
Trails are open from 9:00 AM to 5:30 PM.
NO ENGINES RUNNING BEFORE 8:30 AM OR AFTER 6:00 PM.